Months ago, I shared a save-the-date for the Ribbon Cutting Ceremony at the new Public Safety Building. This week, the Town posted the official details with times.
That prompted me to ask again if the firefighters would be hosting their traditional weekend-before-Halloween party. The answer was yes.
The details on both events are below. Each will take place on Saturday, October 26th at the new facility, 32 Cordaville Road.
Public Safety Building Ribbon Cutting Ceremony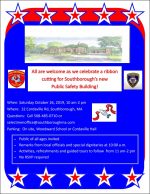 The ceremony will start at 10:00 am with remarks from "local officials and special dignitaries".
That will be followed from 11:00 am – 2:00 pm with activities and refreshments, plus the long awaited public tours of the new facility. All ages are invited with no RSVP required.
Parking for the event will be on site (be sure to enter using the driveway on the left) with overflow parking next door at Woodward School and across the street at Cordaville Hall. (I'm sure we can count on officers onsite to ensure safe crossing!)
If you have any questions about the event, contact the Board of Selectmen's office at 508-485-0710 or selectmenoffice@southboroughma.com.
Southborough FireFighters Association's Annual Halloween Parade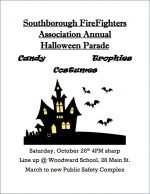 The annual Halloween celebration will start at 4:00 pm "sharp".
As usual, it starts with a parade. What's new this year is the gathering spot and route.
Instead of marching up Main Street, costumed kids and families will gather at Woodward School to head to the party at the new complex next door.
Keeping with tradition, the parade ends with a party that includes a costume contest.
Kids can collect candy while they pass in front of a panel of judges. Trophies are generally awarded by age groups and themes. Past categories included the most creative costume, scariest, and cutest costume. And of course there's the coveted "Captain's Prize".
My favorite category is the group costume, where families embrace a theme. I haven't taken pictures in recent years, but you can see some great examples from 2013 here.
Updated (10/3/19 9:14 am): Fixed the flyers' broken links.