A community discussion a week from today is geared to everyone who feels that they (or family members) need help putting down their phones or other devices more often.
While it's pitched as a book talk, SYFS asked me to remind readers – you don't need to pre-read the book. (Though, you are certainly encouraged to.)*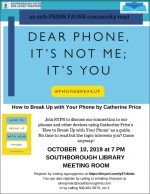 On October 10th at 7:00 pm, SYFS and the Southborough Library are hosting a book talk appropriate for both adults and young adults. The subject is "How to Break Up with Your Phone" by Catherine Price.
The book isn't actually geared to making you toss out your smart phones. It's about setting, and keeping goals, to manage your devices better instead of letting them manage you. From the author's website:
Is your phone the first thing you reach for in the morning and the last thing you touch before bed? Do you frequently pick it up "just to check," only to look up forty-five minutes later wondering where the time has gone? Do you say you want to spend less time on your phone—but have no idea how to do so without giving it up completely? If so, this book is your solution.

Award-winning journalist Catherine Price presents a practical, hands-on plan to break up—and then make up—with your phone. The goal? A long-term relationship that actually feels good.

You'll discover how phones and apps are designed to be addictive, and learn how the time we spend on them damages our abilities to focus, think deeply, and form new memories. You'll then make customized changes to your settings, apps, environment, and mindset that will enable you to take back control of your life.

Packed with tested strategies and practical tips, How to Break Up With Your Phone is an essential, life-changing guide for everyone who owns a smartphone.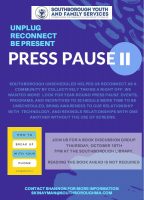 The October talk is the first event through Southborough Youth and Family Services' new Press Pause initiative.
The campaign is replacing the annual "non-event" Southborough UnScheduled with a year long push to encourage the public to:
schedule more time to be unscheduled, bring awareness to our relationship with technology, and rekindle relationships without the use of screens.
*If you're interested in the book, you can find out more details or reserve a copy through the Library here.