The Economic Development Committee is holding a public forum in one week. The subject is the committee's initiative to revitalize downtown Main Street.
The forum takes place the night before Halloween – but EDC is definitely not looking for residents to be spooked. In contrast, the committee is seeking to inform and reassure the public about the committee's initiative efforts.
The EDC promotes:
Come and hear what the Downtown Initiative IS all about and – as importantly – WHAT IT IS NOT!
Expect some of EDC's news to include an update on a $50K Planning Assistance Grant acquired for the Town from the Mass Executive Office of Environmental Affairs.
Back in May, I wrote about EDC's efforts to get funding for zoning work related to the Downtown Initiative. The grant was awarded a month ago. At that time, EDC wrote*:
The EDC plans to use the grant to move forward on two crucial issues that are currently prohibiting viable economic activity in downtown Southborough. Namely, antiquated zoning laws and insufficient wastewater management infrastructure.

The EDC will hire a professional consultant to assist with updating the current zoning laws with a mixed-use overlay district for the DBVD. In addition, an engineering wastewater feasibility study will be conducted that builds on the wastewater pre-feasibility study already conducted in-house.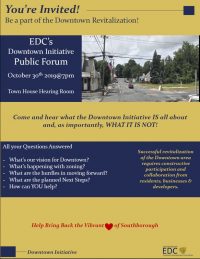 The EDC Public Forum is scheduled for Wednesday, October 30th at 7:00 pm in the Town House Hearing Room. At it, the committee promises to answer all of your questions, including:
What's our vision for Downtown?
What's happening with zoning?
What are the hurdles in moving forward?
What are the planned Next Steps?
How can YOU help?
It appears that last question isn't simply rhetorical. Committee members do hope residents will be interested in helping. The flyer advocates:
Successful revitalization of the Downtown area requires constructive participation and collaboration from residents, businesses & developers.
*The EDC issued a press release in September, announcing the EEA grant award – I just didn't around to posting the news until now. You can read the full release here.