Symphony Pro Musica is opening its 37th season. Once again, St. Mark's School will be one of the two venues for each of the symphony's four concerts this season.*
For its first concert, the symphony is enthusiastically promoting the return of special guest performer Inmo Yang:
Audiences will have the opportunity to hear Inmo perform the beloved Brahms Violin Concerto on the very same Stradivarius violin that was used at the first performance of the work. "Inmo Yang is undoubtedly one of the world's most gifted young musical superstars before the public today," says Symphony Pro Musica Music Director Mark Churchill. "Last season he astounded our listeners with his elevated music-making and flawless technique, and we're honored to have him back before he moves to Europe in December to continue to develop his rapidly expanding international career."

Interest in the concert runs high. Inmo Yang is a past first-place winner of the prestigious "Premio Paganini" international competition, and recently released a live recording of the 24 Paganini Caprices on Deutsche Grammaphon, the world's preeminent classical music label. Inmo plays the "Joachim-Ma" Stradivarius–the instrument was crafted in 1714 and is regarded as one of Stradivari's finest-sounding violins.

"It is a privilege to perform such a wonderful piece on such a beautiful and historic instrument," says Yang. "It was a pleasure to play with Symphony Pro Musica last season, and I'm excited to work with the dedicated players of this wonderful group in November.!"
You can listen to a sample of Yang's talent via YouTube.

Of course, the concert isn't just about the guest star playing Brahms. The concert, is titled "The Three B's" for a reason. Sympony Pro Musica's 75-member volunteer regional orchestra will also perform:
Beethoven's towering 7th Symphony and perennial Bach favorite Sheep May Safely Graze. "The program is a fitting open to our 37th year," says Churchill. "Three of the most revered classical composers in performances of their most exceptional works."
The Southborough concert will be held on Sunday, November 3rd at 3:30 pm in Class of '45 Hall in the school's Putnam Family Arts Center. (Click here for a map.)
The event is free to students and first time SPM concertgoers. General admission is $25 per adult and $20 per senior. Click here to purchase advance tickets.
Prior to the concert, the orchestra will hold a pre-concert talk at 2:45 pm in the hall.
The concert is the second of seven in the Southborough Sounds series this school year. You can purchase season tickets for the SS series here. Those will cover the following additional concerts: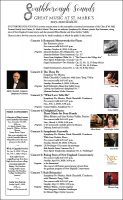 Feb 2 at 3:30 pm – Symphony Pro Musica
Mar 1 at 3:30 pm – Piano Four Hands with Ellina Blinder and Irina Kotlyar Vulikh
Mar 29 at 3:30 pm – Symphony Pro Musica with pianist Sean Botkin
April 19 at 3:30 pm – Virtuosi of New England Conservatory
May 17 at 3:30 pm – Symphony Pro Musica with cellist Zlatomir Fung
Note: There are also options for purchasing tickets to SPM's full season and separately for the non-symphony portion of the SS series.
*For each of SPM's Sunday afternoon concerts at St. Mark's, there is also a performance at 7:30 pm the evening prior at Hudson High School.