The 5K Run and Fun Run to raise funds for the Shifrin family is coming up a week from Saturday. In case you missed the first notice (or forgot), it's time for a reminder.
While most readers know the situation by now, for those who don't:
Long-time Southborough resident Brian Shifrin has been courageously battling ALS along with his wife and 2 children for the past 2 years. Brian's condition has rapidly progressed and he now needs 24-hour medical care.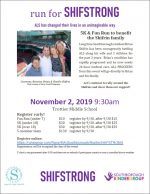 The event will take place on Saturday, November 2nd, 9:30 – 11:30 am at Trottier Middle School. Advance registration is encouraged. (But walk in registration the day of will be accepted.)
All ages are invited to participate (including tots, who can ride along in strollers). The fundraiser's registration fees are:
Fun Run (under 7) $15 (+$2.50 signup fee)
5K (18 and under) $25 (+$3 signup fee)*
5K (over 18) $35 (+$3 signup fee)
I should note that the registration fees are nonrefundable even if the race is canceled due to weather. That's because this is a fundraiser for a good cause:
ALL PROCEEDS from this event will go directly to Brian and his family. Let's continue to rally around the Shifrins and show them our support!
To register click here.
The fundraiser is sponsored by Southborough Wellness and Southborough Kindergroup.
* At first glance, the website doesn't seem to offer a discounted registration fee for youth running the 5K. But, a "Special Pricing" button pops up the clarification: "Note: Age-Based Pricing will be applied at checkout. This pricing will not be reflected on this page."