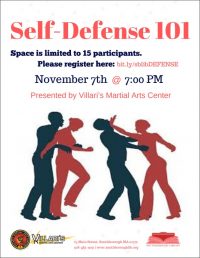 The Southborough Library is offering a special class for adults in two weeks.
Sensei Michele of Villari's Martial Arts Center will introduce self defense techniques. The free Self-Defense 101 is limited to 15 participants and pre-registration is required.
The class will be held on Thursday, November 7th at 7:00 pm on the main floor of the Library.
Click here to register.
(Updated 10/25/19 9:22 am): The headline initially stated "Thursday". The event will be on a Thursday, but not the next one coming up! As I noted at start of the piece, it's two weeks away.