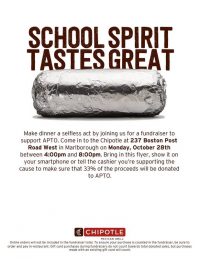 As I've previously posted, the Algonquin Parent-Teacher Organization is holding a restaurant fundraiser each month this school year.
For October, the selected restaurant is Chipotle in Marlborough. It will take place on Monday from 4:00 – 8:00 pm. You can show the cashier the flyer right, or mention the APTO:
This time, Make dinner a selfless act by joining us for a fundraiser to support APTO. Help us reach our 10K goal. Every bit counts!

Come in to the Chipotle at 237 Boston Post Road West in Marlborough on Monday, October 28th between 4:00pm and 8:00pm. Bring in this flyer, show it on your smartphone or tell the cashier you're supporting the cause to make sure that 33% of the proceeds will be donated to the Algonquin PTO.
Save the date for the next two fundraisers:
December 5th, 4:00 – 8:00 pm – Panera in Marlborough
January 30th, 4:00 – 9:00 pm – Mooyah in Northborough