The Friends of the Southborough Recreation Department are hoping that families in town will continue to support its Thanksgiving tradition – the Gobble Wobble.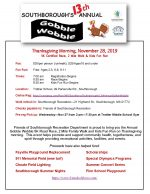 For those of you who want to take part in the race walk or fun run, it's time to start registering. But organizers are trying to reach more than just runners. They need volunteers to help keep the event running this month (and every year).
The event is their big annual fundraiser and helps fund important recreational projects in town. (You can read more on that in my previous post.)
Volunteers are needed Nov. 27-28. You can sign up to help with pre-registration pickup, registration, babysitting, etc.
If you're looking to run the 5k or walk the 2 mile Thanksgiving morning event, click here to register.

For a reminder of the event details, I included the flyer above right. For a look at whose sponsoring the event, click the thumbnail right.