In honor of Veterans Day, the following institutions will be closed this Monday, November 11th: Town offices, the Transfer Station, public schools, the Southborough Library, and the Senior Center.
That morning, Southborough residents are invited to the Town's official observance. The community will gather at the Town Common at 11:00 am to honor our country's veterans and service members. (That's the 11th hour of the 11th day of the 11th month.)
Following tradition, the Veterans Day ceremony is held at the All Wars Memorial on the Common. The 30-40 minute ceremony remembers our fallen and honors those who serve today and all those who have served our nation. It includes readings and patriotic music.
It is preceded by a parade from the the American Legion & VFW Post Headquarters (at the Community House, 27 Common Street).
The parade is comprised of veterans, town Scout groups, Algonquin students, and representatives from the State House and Board of Selectmen. (The gathering begins at 10:15 am, with the procession starting at 10:45 am.)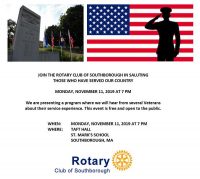 In keeping with its own recent tradition, the Southborough Rotary Club is holding an annual Salute to Veterans. This year, it will take place on the holiday.
The Rotary Club is presenting a program to hear from several Veterans about their service experience. This will be held at St. Mark's School, in Taft Hall on Monday, November 11th, at 7:00 pm. This event is free and open to the public. Click here to view last year's event, graciously filmed by Southborough Access Media.
A week from today, the Senior Center will hold its annual luncheon to honor veterans.
The Senior Center's Veterans Day Celebration will take place at 12:30 pm on Wednesday, November 13th. The event is only for members of the Friends of Council on Aging. Veterans can dine for free, other guests are asked to donate $10 each.
As always, there will be musical entertainment:
Our very talented Southborough Songsters will perform a wonderful patriotic musical to honor our Veterans.

A special appearance by our Woodward School 3rd Graders singing a few patriotic songs will add to this wonderful event. Steve Whynot, one of our local honored Veterans will lead the Color Guard Flag Ceremony. We hope you are able to attend and honor all Veterans. Lunch will be brought to us by TJ Spirits in Ashland. We will enjoy a Chicken Parmesan dinner, dessert and a drink. Sign up at the front desk or call (508) 229-4453.