This weekend, the Town will hold a special dedication service in the memory of late John Wilson. Given Wilson's involvement in helping rally residents to save the golf course, the choice made is fitting. The access road for the Southborough Golf Club is being named "John Wilson Drive".
Earlier this year, selectmen approved a design for the road marker, pictured above.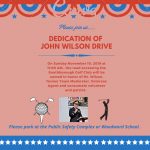 The timing of Veterans Day weekend is also fitting. The ceremony will take place 24 hours before the Town's annual Veterans Day ceremony that Commander Wilson used to co-lead. The dedication ceremony will take place this Sunday, November 10th at 11:00 am.
A flyer for the dedication invites the public to join them in naming the road for the "former Town Moderator, Veterans Agent, and [consummate] volunteer and patriot."
Attendees are asked to park in visitor parking at the Public Safety Building or next door at Woodward School.
At Tuesday night's Board of Selectmen meeting, Chair Brian Shea encouraged attendees to bring along their golf clubs to play a round after the ceremony. (Note: To be clear, the green fees aren't being waived for that, so you'd need to bring your wallet, too.)