This month, the Town of Southborough is holding flu vaccination clinics for residents 12 years and older and Town employees. Mark your calendars, and locate your insurance ID cards.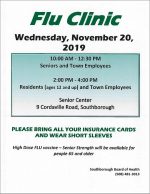 Two sessions will be held on Wednesday, November 20th. The first is for seniors and Town employees only. That runs from 10:00 am – 12:30 pm. The afternoon session from 2:00 – 4:00 is also open to any residents aged 12 and up.
Seniors will be eligible for the high dose vaccine.
Both sessions will be held at the Senior Center, 9 Cordaville Road. Be sure bring all your insurance cards with you and wear short sleeves.
Updated (11/12/19 9:14 am): I mistakenly had last year's date in the middle of the text above.
Updated (11/18/19 8:37 am): Based on a past year's clinic, I had noted that the first session was for ages 60+, but the flyer doesn't specify seniors age, except as 65+ for the high dose vaccine.