Although I more frequently cover Algonquin, it isn't the only public high school that covers the Town of Southborough. Southborough is one of the seven towns that make up the district for Assabet Valley Regional Technical High School. (Although students who want to attend need to apply for acceptance.)
Assabet is holding its annual "Showcase" for prospective future students and parents next week.
The evening will showcase the high school's technical and academic programs. The event will feature interactive demos, performances, and admissions info sessions. It's also a chance to question faculty.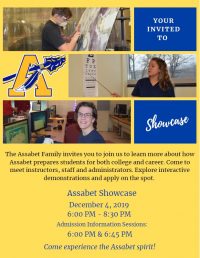 Although the focus is generally for 8th graders, AVRTHS sends out mailers that includes 7th graders, too. So, I assume they are also welcoming students who may be planning further ahead.
The annual event helps "showcase the school's college and career pathways". Students and parents are invited to:
Learn about how Assabet prepares students for both college and career. Meet instructors, staff and administrators. Explore interactive demonstrations and apply on the spot.
The event is 6:00 – 8:30 pm with admission info sessions at 6:00 and 6:45 pm.
To learn more about the school in advance of the night, click here.