Last week, Southborough Police reported two daytime break-ins at Southborough homes. The news was included in a Facebook post.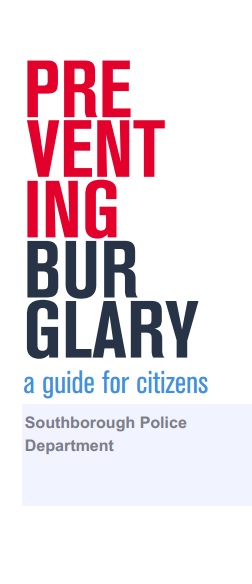 The SPD reminded for residents to take precautions. One of those was to consider a home security system with camera:
There have been two reported burglaries in the last few days. Both appear to have been committed during the day, while the home owners were at work or away. One home was entered through an unlocked door, while the other home had a window forcibly opened. One was in the area of Boston Road (11/11/19), and the other was in the area of Woodbury Road (11/14/19). While these break-ins are being investigated by our department, we encourage all of our residents to remain vigilant in securing your homes, vehicles, and valuables. Please report any suspicious behavior! Also, please consider installing a home security system. Many of our previous B&E's have been SOLVED, with the help of a competent security camera nearby.

If you have any information regarding these past burglaries, please contact Det. Keith Nichols or Lt. Ryan Newell at (508) 485-2121. Thank you.
* Please take a moment to review this previously-posted Burglary Prevention Guide
The warning on Facebook included pictures of the previously shared Burglary Prevention Guide. Click here to open an easier to read pdf version.
Some of the standard tips include making the house appear occupied and not posting your absence on social media. That's something that many will want to keep in mind if they're travelling for Thanksgiving next week.