Did you miss Southborough Gardeners' annual Guest Day? If so, it's not too late to shop their boutique.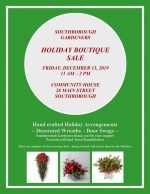 A week from tomorrow, the Gardeners are holding a special Holiday Boutique. Expect to see wreaths, door swags, centerpieces and other holiday themed decorations.
(I don't know what they whipped up this year. But you can look at the types of items they had for sale at their fall 2017 boutique here.)
You can find items to decorate your home for the season or gifts for family and friends. As a bonus, you'll know that proceeds go to Town beautification.
The event will be held at the Community House, 28 Main Street on Friday, December 13th from 11:00 am – 2:00 pm.