I don't usually use exclamation points in the headlines – but it feels like big news to me. For the first time, Southborough Recreation's summer camp program will offer full day options.
Monday through Friday, each age group can attend for ½ day (8:30 am – 12:30 pm) or full day (8:30 am – 4:00 pm). Summer Day Camps will be run from June 29th to August 14th. (The week of August 17th, Rec will offer a 4-day "Adventure Week" full of out-of-town field trips. Stay tuned for more on that or click here for details.)
It's worth noting that not only is Rec's camp still the cheapest weekly option around, but the rate for morning camps have been dropped even lower this year.*
Those aren't the only big changes that Rec is announcing.
Don't look to choose between "Woodward" and "Finn" camps this year. Camps will still be split by the same age groups, but all run out of the Woodward School campus.
Ages 3-6 are asked to sign up for "Camp Fayville" and ages 7-11 should sign up for "Camp Cordaville".
(Isn't it ironic that after 2 summers of "Woodward Camp" being held out of Trottier, campers are finally back at Woodward but no longer under that name?)
The 12-15 year old "CITs" can sign up to help with either age group and also select either the morning or full day program. (For older teens, don't forget that Rec is still hiring counselors.)
Parents can begin registering campers online this Monday, February 10th on Rec's new website. (With the launch of the new site, families will have to create new accounts to register under – even if you already had an account on the old website.)
If you register 3-11 year olds before February 21st, you can get 10% off the weekly rates. That works out to $135 per week for ½ day or $180 for full day. After the 21st, regular rates are $150 and $200. (There is no early bird option for CITs. Scroll down for more info on that program.)
Each week, the full day campers will head out on one field trip. (Sorry, there won't be field trips for the ½ day campers this year.) The younger group will travel on Tuesdays to locations that include the Discovery Museum, Davis Farmland, and Animal Adventures. The older group will travel on Wednesdays to locations like Canobie Lake Park, Urban Air Adventures, and Kimball Farms.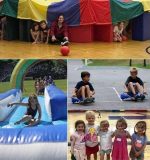 Every week will also feature a theme across both camps (like the popular Carnival week.) Campers will come together for some visitors/activities during the week. But Program Director Alexandra Rooney assures that Woodwards facilities will allow for them to run camps separately. (The school has both a play area in the back and recreation fields in the front. That will allow counselors to "cycle" the campers through the different areas at different times.)
Plus, the location near downtown will allow visits to nearby facilities – like the St. Mark's School pool. (Rooney says that they already have counselors lined up with lifeguard training to allow for that.)
For more details on the camps, see Rec's flyer. You can also look at Rec's brochure for all of its planned spring and summer programs.
For the CIT program, the brochure describes:
Southborough Recreation's Counselor in Training program is a specialized part of our summer camp program for children 12-15 years looking to acquire skills while assisting in the work of our summer camp program. CIT's will be exposed to situations such as behavior management, safety, programming, and team building.

Your CIT will work directly with the Camp Program Supervisor as well as Full Time Recreation Office Staff. Spaces are limited to 12 slots a week!

Please note: Full day CIT's will travel with the camp on field trips and are responsible for providing their own food and beverage.
The weekly cost is $115 for ½ day or $165 for full day. I'm told that CITs can indicate whether they would rather work with the 3-6 year olds or 7-11 year olds.
*On Tuesday night, Recreation Director Tim Davis told selectmen that based on public feedback, the department is working to lower the cost of its programs for the public. Looking back, last year, the early bird rate was $155 for the half day camp, and the regular rate was $165.