As I posted on Monday, artists will be installing their exhibits in this year's Art on the Trails this weekend. In lieu of an opening ceremony, the public is invited to come out and watch the action. (Though, we are asked to maintain social distance.)
The invitation seems fitting given this year's theme "Rising Up":
"OUR GREATEST GLORY IS NOT IN NEVER FAILING, BUT RISING UP EVERY TIME WE FAIL." RALPH WALDO EMERSON
As we move through our lives, in our communities, in our world, we are challenged. How do we face those challenges and move forward with courage? Artists responding to this theme are asked to consider this question and respond with proposals that answer the question or demonstrate the rising of the human spirit.
Organizers have posted a schedule of 14 of the 15 artists this weekend:
Saturday, June 6: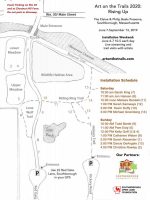 10:00 am – Sara King (of Bridgewater)
11:00 am – Jen Hansen (of Southborough)
12:00 pm – Melissa Randall (of Lancaster, MA)
1:00 pm – Sarah Samways (of Pawtucket, RI)
3:00 pm – Kevin Duffy (of Arlington)
4:00 pm – Michael Greenberg (of Hopkinton)
Sunday, June 7:
10:00 am – Todd Bartell (of Watertown)
11:00 am – Pamela Esty (of Southborough)
12:00 pm – Kelly Goff (of Norton)
1:00 pm – Catherine Weber (of Southborough)
2:00 pm – Sarah Alexander (of Hopedale)
3:00 pm – Darcie DeAngelo (of Lowell)
4:00 pm – Christine Rowley (of Somerville)
By process of elimination, it appears the unscheduled artist is Cecelia Lamancusa (of Ashton, Maryland).
If you are visiting in person, click the map above right to see the locations on the trail. You can also enjoy the installation remotely via live streaming on artonthetrails.com.
Once installed, the pieces will remain on exhibit through September 22th for the public to enjoy. The 2020 exhibition is made possible through the support of Southborough Open Land Foundation and the Southborough Community Fund. It is juried by Hilary Zelson, artist and Cambridge Arts Public Art Administrator.
Below are excerpts that I'm sharing again from the original announcement:
Art Juror Hilary Zelson said "the theme of this years exhibition, Rising Up, took on an unfortunate new meaning related to the current Coronavirus Pandemic. Each artwork in the exhibition explores the complexity of facing challenges and how we process these obstacles. DeAngleo will rope off faux minefields inspired by her time working in Cambodia where "landmines contaminate the landscape", making an invisible enemy, visible. Samways "envisions a thicket of trees covered in mask". Goff will install sculptures "constructed of two-inch-diameter steel pipe salvaged from a construction dumpster" and transform them into large tangled forms twisting and growing in all directions. Other artworks address environmental growth, meditation, balance, loss, community, and hope. Together, this outdoor exhibition of fourteen artists parallels our current uncertainty and ambition especially as we begin to reopen Massachusetts."

Deborah Costine, Vice President of Southborough Open Land Foundation (SOLF) said, "SOLF is again pleased to host Art on the Trails at Elaine and Phillip Beals Preserve. In this year of the Global Pandemic of Covid-19, people have been required to stay home. Since this can cause feelings of isolation and even depression, many quickly found themselves seeking the wonderful healing balm of nature. Art on the Trails has already connected people to nature who might not have otherwise sought it out and now they return to Beals Preserve when they particularly need to feel uplifted. This new season of Art on the Trails with its theme of "Rising Up" when facing adversity is particularly appropriate."

In addition to the installations, the program will include poetry written in response to the work and will be juried by Route 7 Press founder, poet, and Westborough resident Maura Snell. A prize winning poem will be selected from submissions by Tianli Kilpatrick, editor of the Worcester Review.

Learn more about this event at www.artonthetrails.com or by contacting Catherine Weber at cweber@artonthetrails.com or 508-523-3605.