Northborough Southborough Music Association shared news on the goodbyes and thank yous between Algonquin's music teachers and their Class of 2020 students.
This spring, the ARHS Arts Department has been tweeting Senior Spotlights and NSMA has been sharing them on Facebook. (Scroll down to see those.) In May, music teachers made special trips to students homes. An NSMA message to seniors explains what they were up to and why:
Congratulations on your graduation from ARHS!

We are so sorry that the last few months of your high school career have been so unusual. You have worked so hard through many years of schooling and your resiliency will not go unnoticed! . . .

We hope you enjoyed seeing your music teachers as they personally delivered a celebratory music yard sign and succulent yesterday. We presented you with a succulent as they symbolize enduring and timeless love. We hope you know how special you all are.

All of us at NSMA miss you, applaud you and wish you all the best. It has been a true pleasure to support your musical growth through NSMA over the years.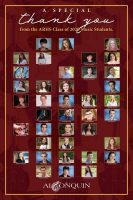 The May 28th message from NSMA Co-Chairs Deb Scaringi and Debbie Keefe also described NSMA's thank you gift to the Muisic department on behalf of students:
Since we did not get the chance to gather on Pops Night to have the annual senior musicians group photo taken, we have created a poster to commemorate your time in the ARHS music program. A 24×36 version of this poster was framed and presented to Mrs. Collins, Mr. Vincent and Mrs. Waters on your behalf yesterday.
Below are the Senior Spotlights teachers and NSMA shared on social media:
Updated (6/9/20 11:39 am): I forgot to insert the photo of Mrs. Collins, Mr. Vincent and Mrs. Waters receiving the poster.