Tonight, Neary School's parking lot will turn into a Drive-In Movie theatre, thanks to Southborough Recreation.
Southborough Rec had planned weekly movie nights on the field this month. The public was invited to bring out their blankets and chairs to enjoy a movie under the stars each Tuesday in August. Unfortunately, a couple more wrenches were thrown into their latest summer plans. A tropical storm cancelled the first night. Then new Governor's orders rolled back allowances on the size of outdoor gatherings from 100 people to 50.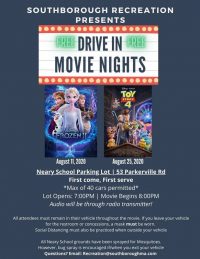 Rec responded to by again reformulating their plans. Now they will offer free Drive-in Movie Nights. There are a couple of caveats though. The number of events had to be reduced from four to two. And the new format only allows 40 cars each movie night.
Cars will be staggered every other space for safety and better viewing. (Staff will be on site to assist with parking.)
Rec Director Tim Davis writes that the movie audio will be transmitted through each car's radio system. They also booked a much larger screen to accommodate the new viewing setup.
The Uhlmann's Ice Cream truck will be there and restrooms will still be available. If you take advantage of either, you are required to wear a facemask and practice Social Distancing. (You are also encouraged to wear bug spray, though the fields have been sprayed for mosquitoes.)
Other than buying concessions and using facilities, attendees are required to stay inside their cars during the movie.
Tonight, Frozen II will be screened. Access is first come, first served with the lot opening at 7:00 pm. The movie is scheduled to start at 8:00 pm. It runs for 1 hour and 43 minutes. (For those of you who haven't already seen it, there is a brief post-credit scene. So you may not want to rush off when the credits start to roll.)
In two weeks, on August 25th, Rec will show Toy Story 4.
Email Recreation@southboroughma.com with any questions