The State Primary is coming up on Tuesday, September 1st. For those who haven't been paying attention, it's the election that will likely determine an important U.S. Senate seat. But it's not the only decision voters are asked to make.
The Town issued some important details. And I pulled together info on what's at stake on the ballots.
The deadline to Register to Vote or Change Political Party Enrollment is this Saturday, August 22nd. The Town Clerk's office will be open from 2:00 to 4:00 pm and 7:00 to 8:00 pm to handle those requests. (If you're unsure of your voting status, you can check here.)
This year, voters can cast ballots by mail, in person early, or in person on Election Day. For those of you who are worried about voting in person, but also worried about postal delivery times, the Town has addressed that.
Below are details on the Primary Ballots followed by information on how to cast them.
Who is on the Primary ballots
For those of you who are unenrolled voters, you can choose which of four primaries to vote in. If you've registered with a party, that's the only ballot option you have. This time around, only the two big parties list candidates on the ballots. (The Libertarian and Green Party only have slots for writing in names of candidates.)
The Democratic Primary
Senate Race – As most of you should be aware, incumbent U.S. Senator Ed Markey is being challenged by Rep. Joe Kennedy III.
Register of Probate – You may not be aware that Worcester County also has another contest on the ballot. Two Democrats are seeking the nomination to run against the incumbent (Republican) Register of Probate. The candidates are John Dolan (Admin. Deputy Assistant of the registry) and Kasia Wennerberg (a probate attorney). (You can learn more about the office here.)
The Republican Primary
Senate Race – While they appear to be long shots, it turns out that this ballot also has two candidates for the Senate seat. On the Republican primary ballot, you can choose between Dr. Shiva Ayyadurai and Kevin O'Connor.
How to Vote in the Primary
Vote by Mail
Some of you may already have received an early ballot in the mail, if you responded to the state mailer earlier this summer. It allowed voters to to select to automatically receive all 2020 election and/or primary ballots by mail. The Town Clerk's message notes that as of yesterday, 1,945 Southborough voters have registered to Vote by Mail for the State Primary election.
For those of you who didn't send in the request, you can still request a ballot through the Town Clerk's office. The deadline is 5:00 pm on Wednesday, August 26th. Click here for the application, then, download it:
Sign it, scan it, and email it to townclerk@southboroughma.com and we'll mail your ballot to you.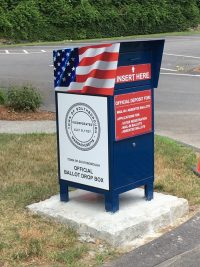 Once you have your early ballot, you can place the envelope with prepaid postage in the outgoing mail. Or, you can avoid worrying about potential mail delivery delays by dropping the ballots in the new big blue voter box at the Town House. (That's at 17 Common Street.) From the photo they posted, looks like it will be pretty hard to miss. (Just don't put your envelope in the green box used to collect bills, etc.)
A link to the Secretary of State's website allows you to Track your Vote by Mail ballot.
In-person Early Voting
If you'd still rather vote in person, you can take care of that at the Senior Center starting this weekend. Early Voting will be held from Saturday, August 22nd to Friday, August 28th. Voting will run from 10:00 am – 4:00 pm. Entrance is through the rear door of the Cordaville Hall facility at 9 Cordaville Road.
Election Day
All three precincts will return to their normal Election Day location and hours. Voting will be held in the Trottier Middle School Gym, 49 Parkerville Road, on Tuesday September 1, 2020 from 6:30 am to 8:00 pm.
If you have any questions, you can call the Town Clerk's office at (508) 485-0710 x 3005.
Electioneering Policy
Tomorrow night, the Board of Selectmen will be asked to approve an Electioneering Policy. It would allow enforcing a 65 foot buffer between political campaigning and the municipal buildings used for voting during early and absentee voting windows. You can read the draft here. In a letter from Town Counsel, he opined:
the policy proposed appears to strike an appropriate balance between voter's right to enter polling places without undue electioneering activity and at the same time, recognizing the right of certain individuals to display or distribute material intended to influence actions of voters s regulated by M.G.L. c.54. Section 65 as such it appears to be a reasonable proposal for the Board's consideration and in acceptable legal format.
Updated (8/18/20 11:59 am): The initial information from the Town had an error. The deadline for applying for mail in ballots is at 5:00 pm on the 26th, not noon.