The State Primary is today, Tuesday, September 1st. If you haven't voted yet, the time is now.
Here's how to vote and what you are voting for.
How to Vote
By Mail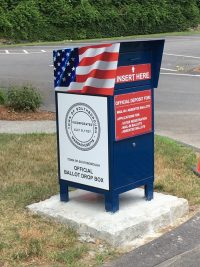 For those of you who already received your early ballots, it's not too late to use them. The Town has a mailbox at the Town House dedicated to elections. (That's at 17 Common Street.)
Just be sure to drop it in the box before 8:00 pm. And make sure to use the clearly marked blue box (see image right). Don't use the old green box for bill payments and other mail.
If you don't have your early ballot, you'll need to head to the polls.
In Person
All three precincts returned to their normal Election Day location and hours. Voting is being held in the Trottier Middle School Gym, 49 Parkerville Road. (The entrance is on the side of the building facing the track.) The polls are open now and will stay that way until 8:00 pm.
If you have any questions, you can call the Town Clerk's office at (508) 485-0710 x 3005.
Who is on the ballots
For those of you who are unenrolled voters, you can choose which of four primaries to vote in. If you're registered with a party, that's the only option you have. This time around, only the two big parties list candidates on the ballots. (The Libertarian and Green Party only have slots for writing in names of candidates.)
Here are the three races:
The Democratic Primary
Register of Probate – You may not be aware that Worcester County also has another contest on the ballot. Two Democrats are seeking the nomination to run against the incumbent (Republican) Register of Probate. The candidates are John Dolan (Admin. Deputy Assistant of the registry) and Kasia Wennerberg (a probate attorney). (You can learn more about the office here.)
The Republican Primary
Senate Race – While they appear to be long shots, it turns out that this ballot also has two candidates for the Senate seat. On the Republican primary ballot, you can choose between Dr. Shiva Ayyadurai and Kevin O'Connor.
As for voting early or by mail for the November 3rd election, stay tuned for news on that.
Updated (9/1/20 8:02 am): If you already voted by mail and want to make sure it was received, you can check the status here.