[Editor's Note: Due to the weather, the outdoor portion of the event needs to be postponed. A virtual Open House will take place instead at 8:00 pm. Scroll to bottom for details.]
A popular playgroup for parents/caregivers and tots is revamping its traditional Open House this year. Southborough Kindergroup will hold an outdoor movie night next week. (Although, those not comfortable with the gathering can sign up to view presentations virtually.)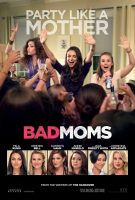 The adult only movie night will feature the comedy Bad Moms.
The event is especially geared for adults looking to get more information about the group and their plans for this year:
Southborough Kindergroup is a community group for infants, toddlers, and preschool children and their parents and caregivers. Kindergroup was established in 1977 and has grown and evolved over the years. Our continued success is dependent upon the support of each member. While things may be different this year with COVID and we will not be meeting in person as at designated spot for playgroups, we are committed to making this year one that still supports one another and the growth of friendships and community.
For those looking forward to getting out can sign up to attend the Thursday, September 10th 7:00 pm event. Attendance is capped, so Kindergroup is suggesting registering only one adult per household:
Come find out what Kindergroup has to offer you and your family and enjoy a safe, socially-distanced moms' night out! . . .

Following a short presentation about Kindergroup, enjoy some individually packaged snacks and beverages while watching "Bad Moms" on a gigantic outdoor movie screen!

Please note we take our community's safety extremely seriously. All social-distancing guidelines will be strictly followed at this event, and we will be capping attendance at 35.

Location and additional details will be emailed upon registration.

VIRTUAL OPTION: For those unable to or not comfortable with attending the in-person event, we will also be offering a virtual option for the presentation part of the evening. We hope you can make it!
To sign up for either movie night or virtual presentations, click here.
To find out more about Kindergroup, click here.
Updated (9/10/20 8:53 am): Late last night, Kindergroup announced:
**UPDATE** MOVIE POSTPONED, ZOOM CALL AT 8PM
Unfortunately, the weather is not cooperating and we will have to POSTPONE the in-person movie part of [Thursday] night's Open House event. We plan to reschedule soon!

The presentation/informational part of the night will now be completely VIRTUAL via Zoom. To help accommodate kids' bedtimes, we have pushed the presentation a little later to 8:00pm (previously scheduled to start at 7:30pm).

We are going to have a great time and are even giving away some PRIZES to attendees!!! So don't miss it!

Please REGISTER to receive the Zoom information:
https://www.kindergroup.com/events