NSBORO Superintendent Gregory Martineau issued another update to parents this week and school principals have been messaging families on miscellaneous details. Plus, the Regional School Committee cast some important votes last week. So, it's time for another update on the Northborough-Southborough Schools Reopening plans.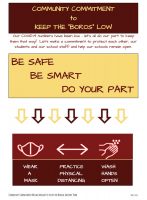 District Health & Wellness
Martineau's recent message focused on the health and safety of the district, including the community's responsibilities. He shared a video from the Medical Advisory Team on the District's Health and Safety Reopening Plans. He also highlighted their initiative to drive home the need for keeping "the 'BOROS' low". Finally, he reminded that the district has been continuing to update the Reopening Website.
ARHS Athletics
While the district is encouraging physical distancing, they are still proceeding with multi-school Athletics for the high school this year. The Regional School Committee approved the proposed plan last week.
Beyond the benefits of sports for students, Athletics Director Mike Mocerino pitched that following a plan based on MIAA guidelines is safer than not offering a program:
We believe the role of interscholastic athletics play and foster a deep and positive social emotional health outcomes in our collective communities that can not be emphasized enough. . .

Student athletes are much safer and exposed to fewer people if they're in school sports versus club sports. Athletics and other school activities help with physical, social, and emotional well being of our students, many of whom have felt isolated over the last 6 months.

The more time we have in our students spent in organized activities, the less likely they are to do something with peers that is not safe, especially during after school hours, which is when teens are most likely to engage in risky or questionable behavior.
To mitigate risk, some big changes are being made. The plan calls for schools to be limited to competing within a small "pod" of about five other nearby districts. Each week, two districts would be paired up – making it easier for schools to keep tabs on each other's Covid-19 case rates.
Tournaments won't be held post-season (or across pods). The shortened timeframes will allow squeezing in an extra season between Winter and Spring for some fall sports the schools aren't ready to host in September.
Girls Volleyball would require use of indoor facilities, many of which are being utilized for lunchtime and/or classes by schools this fall. And Football, Cheerleading, and Unified Basketball are considered too high risk to entertain at the start of school. All four are scheduled to be offered during "Fall II" starting in late February. (Of course, like all aspects of athletics, those details are subject to change.)
The remaining traditional fall sports, defined as low or moderate risk, will begin September 18th. Those are Cross Country, Soccer, Boys Golf, and Field Hockey. No details are yet available about how transportation, practices, and games will be coordinated given that school will still be remote at that time with plans to phase into Hybrid that will have at least half of students learning from home each day.
Some sport specific details and the confirmed pods were still being worked out by MIAA and MidWach/CMASS and have yet to be released. Fortunately, payments aren't due yet. (See more on fees below.) So, hopefully families will have all of the info they need before they make a payment. But, the registration period closes at noon on Tuesday. So don't wait too long to sign up if you think you'll be taking part.
You can find more details on ARHS Athletics here. Stay tuned for updates.
ARHS Student fees
With the shortened seasons and possibly shorter rosters for outside school competitions, the ARHS Athletics Fee is being lowered this year from $200 to $150 per season with a family cap of $900. The Regional committee also voted to approve lowering the parking fee this year from $200 per year to $70.
However, the student activity fee that every family is required to pay, will remain $50 this year. Finance Director Rebecca Pellegrino explained that the money helps cover stipends and expenses to hold the extracurriculars. This year they still expect to offer after school activities even if participation is remote. Committee member Dan Kolenda questioned if the fee should be included in the budget. Martineau said that the time to address that would be during the budget-building season.
ARHS Orientation
An email yesterday morning invited parents to sign up students for Freshman Orientation next week.
Three 2-hour sessions scheduled for Wednesday, September 9th. Students can sign up to show up that morning or afternoon to meet at the football field. Or they can zoom in that afternoon. (September 10th is the rain date.)
The teens can also sign up to participate in a virtual Trivia Night that evening. Students will be competing to win some "ARHS swag". 2020 Freshmen Orientation Sign Up!
At the same time, 6:00 pm, the school will host a virtual orientation for parents of incoming freshmen. For the zoom link details, parents should check their inbox. (If you didn't get the One Call emails, be sure to contact the school.)
Side note – ARHS logos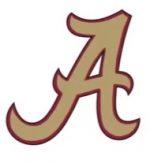 Some of you may have noticed that the Athletics Department presentation to the School Committee featured a new logo. Earlier this summer, the new logo was announced via the school's twitter feed:
Big thanks to senior Graphic Design student Dana Gaudette for cleaning up an old Gonk letter "A" for our profile pic (and other uses)! Great job, Dana! #NewProfilePic
The new A is being used as the twitter profile image for the high school. That doesn't mean that the Tomahawk symbols are out for Athletics. As of today, the ARHS Athletics twitter profile still features the old symbols.
K-8 Updates
The elementary and middle schools are coordinating upcoming "Tech Deployment". Students will each be assigned a school owned chromebook or ipad. They will be used both at home and in school. As explained in an email to parents from Trottier Principal Gary Hreschuk:
When all students have the same school-owned device, it makes it easier for the teacher to know that the students are all using and have access to the same type of device. We can manage the devices at the district level and push out access to all of the learning platforms that teachers use regularly. Lastly, while in school, we can track student activity on the devices with GoGuardian.
The middle school is offering an in-person orientation for incoming 6th grade students that will attend Hybrid this fall. Stand Alone Remote 6th grade Students will be offered a virtual orientation. Parents are also being offered virtual Principal Coffees.
At this point all of the K-8 schools have posted school supply lists on their websites.