While municipal facilities still aren't hosting events, Town employees have been coordinating with Southborough Access Media to offer entertainment and educational presentations to the public. Here are more programs you can enjoy.
This month, SAM has been airing a special program for the Southborough Senior Center. "Early Roads & Trails of MA" features "five-time Emmy award-winning historian" John Horrigan "as he views ancient paths and trails of Massachusetts" and talks about "major thoroughfares that transit Southborough".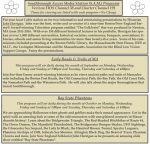 You can stream it via SAM's Public Access Channel website here or click on the image right for the TV schedule.* (In October, they'll be featuring another Horrigan program on "Bay State Phantoms".)
In addition to airing the following videos on Public Access, SAM posted them to its YouTube channel:
Fresh! Making your Produce Last
The first in a series sponsored by the Southborough Senior Center. Enjoy learning about fresh, canned and frozen food and nutrition with dietitian Minna Scholten, MS, RDN, LDN. (link)

Southborough Library presents Kim Larkin with Super Foods
Enjoy another fascinating presentation from Kim Larkin on foods that really good for you and why. (link)

Two regular series have also been airing on Public Access and available on YouTube.
SAM has been sharing Southborough Youth and Family Services' Coffee Talk series. Each week they feature a guest, usually one whose role is connected to public services. You can check out their entire playlist here.
And, though not produced by a Town agency, SAM offers the Frank & Mary in Southborough series with hosts Doug Peck and elder law attorney Arthur Bergeron.
The series revolves around issues that impact people like "Frank & Mary" a fictional senior couple that want to live in their house until they die. Not only have they continued to record the series, they launched a "pandemic" version over zoom. You can find those here.
*The image above right is cropped from the Southborough Senior Center's Sept-Oct newletter.