Every year, the Northborough/Southborough Special Education Parent Advisory Council* hosts workshops and meetings for parents with students on IEPs. Like most organizations, they are offering this year's presentations virtually.
Coming up next week is an important one:
Basic Rights: Understanding the IEP
Wednesday, October 7th from 6:30 – 8:30 pm.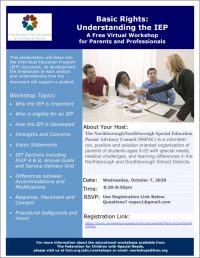 This presentation will delve into the Individual Education Program (IEP) document, its development, the breakdown of each section and understanding how the document will support a student.
Workshop Topics:
Why the IEP is Important
Who is eligible for an IEP
How the IEP is Developed
Strengths and Concerns
Vision Statements
IEP Sections including PLEP A & B, Annual Goals and Service Delivery Grid
Differences between Accommodations and Modifications
Response, Placement and Consent
Procedural Safeguards and more!
For more details, see flyer above right. To register, click here.
In normal times, NSPAC hosts monthly "informal Coffee and Connect" sessions. They are hosting a virtual version this month: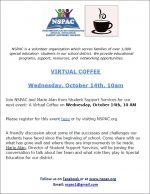 Virtual Coffee with Student Support Services
Wednesday, October 14th from 10:00 – 11:00 am
Join NSPAC and Marie Alan, Director of Student Support Services
A friendly discussion about some of the successes and challenges our students have faced since the beginning of school. Come share with us what has gone well and where there are improvements to be made.
Marie Alan will be joining the conversation to talk about her team and what role they play in Special Education for our district.
Click here to register.
For those that missed NSPAC's August meeting with a Special Ed attorney, the organization is still offering access to what was discussed:
Discussion with Special Education Attorney Abra Allexenberg
Covid-19 has created new obstacles for parents and their children who are on, or need to be on, IEP's, 504's and require other special accommodations related to their educational needs. Come join us in an online discussion with Special Education Attorney (and Northboro Mom) Abbe Allexenberg surrounding issues related to assessments and evaluations; what parents and students are entitled to; what remote learning looks like; and updates from the local governments as the new school year approaches.
Click the following links for the presentation slides and the recording.
*For those unfamiliar with NSPAC, it is "is a volunteer-run, positive and solution oriented organization of parents of students ages 3-22 with special needs, medical challenges, and learning differences in the Northborough and Southborough School Districts." According to its website, "There are 898 students on Individualized Education Plans (IEPs) and 483 students on 504 plans in our Districts." You can learn more here.
Updated (10/9/20 10:39 am): NSPAC provided a flyer with more detail on the Virtual Coffee.