The Town is offering its new round of in-person and remote Recreation After School Program classes for Southborough students this fall.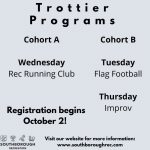 This time, the programs will extend up to Trottier students.
Again, all of the in-person programs hosted at the schools will be held outdoors (even the artsy/craftsy ones). Indoor classes will be offered at other facilities. (Participants in those programs will need parents to drive them there.)
To mitigate risk, in-person programs will be limited to students in whichever Hybrid cohort is attending school that day*. There are also remote programs that both cohorts and Stand Alone Remote Program students can join.
Classes are listed (and linked) below.
Online for all residents (Hybrid students from both cohorts and SARP students):
Grades 2-8

Metrocraft – (working in "a virtual Minecraft type world") – Mondays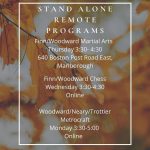 In-Person for Finn & Woodward SARP students:
In-person for Hybrid students (held at the school unless noted otherwise):
Trottier – Cohort A
Trottier– Cohort B
For details and to register, visit the Recreation website here.
*Although the listing descriptions for classes on the Recreation website don't specify Cohorts, it will come up during the registration process.