The NSBORO administration asked me to promote that they are still looking for sbustitute teachers, nurses, custodians, and cafeteria workers
While I'm sharing that with readers, I'm also updating you on the school district's other postings since my last update. They include a remote teacher and long-term substitute.
(If you'd like to share your company's job openings in future weeks, email mysouthborough@gmail.com.)
Public Schools of Northborough and Southborough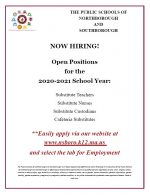 Substitutes
To backup its essential workers this fall, the school is still looking to build a list of substitutes who can provide "services on an as needed basis".
They are seeking:
Other positions
The following positions in Southborough or at Algonquin were added to the district's Employment Opportunities since I last posted in late August.
Education Support Professional (ESP/Aide) – Algonquin
Grade 1 Remote Teacher
Education Support Professional
Technology Support Specialist
Clerical Aide for Trottier Middle School
Education Support Professional (ESP)/Aide – Southborough
Elementary Teacher – Long-term Substitute
Speech & Language Pathologist – Long Term Substitute .8 FTE
There is also an older listing that is still posted for a part-time Accountant.
Positions are posted until filled. Click here for details on the positions and applying.