Before heading into the long weekend, I wanted to post an update on the Covid infections in Southborough. I'll start with no news as good news. As of this posting, there haven't been any new cases reported for the Town since Tuesday morning.
As I assessed before it came out, the State's weekly report and map categorized Southborough's as a red/high risk community based on the recent spike.* According to a tweet by the Town, the news comes with a silver lining. The Town retweeted news from Mass Public Health with a link to testing sites including ones in Framingham and Marlborough:
Help us stop the spread of COVID-19 by getting tested. Residents of many communities with high rates of COVID-19 can get tested at no cost to you – even with no symptoms. All results are confidential.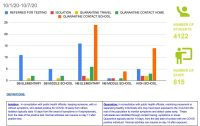 NSBORO Public Schools issued its second weekly dashboard.
I admit, I'm still confused by the difference between active listed cases (1 remote and 4 in-person) versus the number posted in the school's graph for isolated people, which would seem to be active cases based on the definition.
The graph does make clear that as of October 7th, no one was confirmed as infected in connection with Southborough's elementary or middle schools. Isolated people were listed as linked to Algonquin and other Northborough schools.
The dashboard reminds:
With the upcoming long holiday weekend, please remember our guidelines regarding travel outside of the lower risk states. Upon return to Massachusetts, students or staff traveling outside of the lower risk states must quarantine for 14 days. Guidelines for Travel Outside of the Lower Risk States
*I realized recently that although the the State's report and map are issued each Wednesday, the timelines don't match. The report looks at data looking back two weeks from Wednesdays, and the map is based on two weeks from Saturdays. That means in the future, we could move back to yellow in the report while still showing up as red on the map.