Thanks to a recent press release, I learned about another author residing in our community. Southborough's Dariel Suarez is scheduled to hold a virtual workshop for writers next week. It's part of the New Hampshire Writers' Project's annual conference.
This year's 603 Writers Conference is a "Sit and Click" virtual event. The October 17th conference features classes by eleven writers. Suarez will be presenting two sessions on "From Idea to Draft: Strategies to Successfully Develop a Story".
Suarez' first novel, The Playwright's House, is due out next spring. He previously published a poetry chapbook and an award winning collection of short stories. Last year, the Boston Globe wrote:
Cuban-born author Dariel Suarez braids the personal and the political in his honed and immediate Spokane Prize-winning debut collection of short stories, "A Kind of Solitude'' (Willow Springs).

The characters in these stories, set in Cuba, find themselves in various sorts of binds: Two friends steal a giraffe from a zoo for high-paying American tourists; a trio of pals consider what to do with a boy named Mudface who's killed their friend; two young men wrestle with their different versions of love and attraction. Suarez evokes the magnetic forces that pull us toward something and keep us bound; his characters think of escaping, of the boat ride to Florida, and they are tied by blood and love.

Suarez, who immigrated to the United States in 1997 with his family, got his MFA at Boston University, is director of core programs and faculty at Grub Street, and was one of the five first recipients of Boston's artist fellowship program.

Oppressive systems and corruption appear like bad spirits in every story, as do real beating hearts, people living, fighting, fearing, loving in a place Suarez evokes with candor, humor, and strength.
The upcoming conference is focused around the theme, Choosing Your Path to Publishing.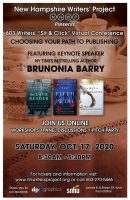 It includes a Keynote by NY Times bestselling author Brunonia Barrry, a panel discussion, workshops, and a Pitch Party. The NH Writers' Project shared Suarez' goal for his workshops. He plans for participating writers to:
walk away with a set of approaches, tools, and questions they can use to begin mapping out and developing their stories without having to meander aimlessly on the page.
The press release also provided insight on Saurez' writing philosophies:
Whether it's a character, a place, an image, or a single line, stories need a concrete seed from which to grow. . . As a writer, I find a lot of value in mapping out and outlining my stories, even if I ultimately don't stick to the original structure. Having a roadmap is useful in staying productive and moving on to the next page. It provides a framework that you can stick to or eventually dismantle, but the core of the story is still there.
His advice for writers struggling to get beyond their initial concept:
Exploring possibilities for character, plot, setting, and conflict before you sit down to write can be a productive and effective approach.
For more information about the conference or to sign up, click here.