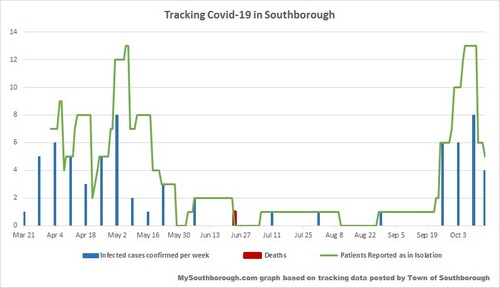 As of this afternoon, there are five active cases of Covid-19 in Southborough. (One was confirmed today, and three earlier this week.) That brings the total to 68 cases throughout the pandemic.
The latest numbers from the state still have our Town in red/high risk (and we will be in next week's report).* My updated graphs on age demographics are below.
Since I last posted, the district confirmed two cases impacting Southborough public schools.
The district has begun issuing more frequent "Dashboards" each covering a shorter period of time. As of October 12th, the dashboard noted that data would be updated each Monday and Thursday.
Monday's report (covering October 8th – 11th) included a case linked to Trottier Middle School. That didn't seem to require others to quarantine (at least through contact in school.) On Tuesday, Neary school confirmed a case that required a dozen students and staff to be quarantined. That data was reflected in the new report posted late this afternoon. As of this week, no Algonquin students are listed as having active cases.
Today's report updates that as of yesterday there were still 4 active cases for students/staff of in-person school across the district. During the period Monday to Wednesday, 48 others were in quarantine due to contact in schools. Over 25 were quarantined for different reasons (e.g., travel or contact outside of schools).
Below are snapshots from the schools' dashboards this week:
*The state's community level reports are issued on Wednesday evenings, but fine print indicates they are based on data through the prior Saturday.
Updated (10/16/20 4:21 pm): The Town updated that there was one new case confirmed, bringing the number of cases to 69. With more cases released from isolation, only four cases are still considered active. For updated graphs, see my Covid-19 info page here.
Updated (10/19/20 9:31 am): Since my last update, the Town posted new numbers for October 16th "as of 7:55 pm". The total cases went up to 72, meaning three more cases were added. But the total in isolation only went up by one, meaning two more previous patients were released from isolation. For updated graphs, see my Covid-19 info page here.
Over the weekend, the Superintendent announced one more case of Covid-19 was confirmed for someone who had been at Algonquin on October 16th. Close contacts were notified ("those who have been within 6 feet of distance of the individual for greater than ten minutes, in school spaces, on the bus, or at an extracurricular activity.")