As the Town alerted in a retweet, today (October 15th) is the last day to participate in the US Census. (Remember, this is different than the annual Town "Census"/Street Listing mailer.)*
The tweet warned:
Today is the LAST day to file your 2020 Census! The 2020 Census will determine congressional representation, inform hundreds of billions in federal funding every year, and provide data that will impact communities for the next decade.
Earlier this year, you should have received mailed instructions on how to respond to the Census online. If you had put it aside to deal with later, you're almost out of time. But it's not too late.
If you still have the letter, you can click here and enter your code to respond online. If you misplaced (or never received) your ID, you can click here for instructions. For information on responding by phone or mail, click here.
So, why should you bother?
The US Census is required by the US Constitution to be done once per decade. It's also considered important for our Town. This spring, Town Clerk Jim Hegarty explained:
It is important for Southborough residents to complete this census because the data from the census is used to determine how billions of dollars in federal funds are returned to states and towns for public projects including schools, roads and other public projects.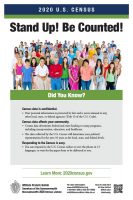 You can find more info about the big count and why the state wants the public to participate here. The state's flyers reassure:
Census data is confidential.

Your personal information is protected by law and is never released to any other local, state, or federal agencies (Title 13 of the U.S. Code).
*For more on the difference between the US and Town censuses, click here for my April post.