Northborough-Southborough Girls Lacrosse is offering a free clinic a week from Sunday. It's touted as a fun chance to learn the basics of the sport.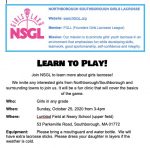 While NSGL has traditionally been for Northborough and Southborough girls in grades 1-8, the clinic is open to any grade and to surrounding towns. A flyer promotes:
NSGL's mission is to promote youth lacrosse in an environment that emphasizes fun while developing skills, teamwork, good sportsmanship, self-confidence, and integrity.
The clinic will be held on Sunday, October 25 from 3:00 – 4:00 pm at Neary School's Lunblad field. (That field is the upper one accessed from Parkerville Road.)
Extra lacrosse sticks will be available. Girls need to bring a mouthguard and water bottle. If the weather is cold, they should dress in layers.
Anyone with questions can email nsgllax@gmail.com.