This morning, I noticed a resource on the Southborough Library's website that I hadn't noticed previously. I confirmed with the Library that three were recently added. Two of them could come in pretty handy for those looking to create decorations or make personal gifts this month:
Enjoy unlimited access to thousands of online art and craft classes. Watch our classes anytime, anywhere. Since our classes never expire, you can start and stop projects at your own pace. No pressure, just possibilities!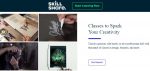 An online learning community with thousands of classes for creative and curious people, on topics including illustration, design, photography, video, freelancing, and more. On Skillshare, millions of members come together to find inspiration and take the next step in their creative journey. Access to Skillshare is reset month-to-month on a first come, first served basis. Authentication is managed by the Library Director. Please e-mail rdonovan@cwmars.org with any questions or concerns.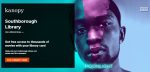 An on-demand streaming video platform for public libraries and universities that offers films and documentaries. Kanopy's subdivision, Kanopy Kids, includes children's programming. Kanopy also provides access to The Great Courses, a series of college-level audio and video courses produced and distributed by The Teaching Company.
I also realized in looking back that while I shared highlights in multiple posts, I have never fully listed all of the e-resources the Library has been offering patrons. With the doors still closed for in-person research and browsing, some are fairly important.
I've referenced some of the below resources below in the past. I'm including them in order to round them all up into one post. Most of the Library's online resources (but not all) require a Southborough Library Card number for access.*
While curbside pickup allows patrons to check out books and some other materials these days, some of you may prefer ebooks an audiobooks. The Library's main resource for that is OverDrive:
a library-sponsored service that allows you to borrow and instantly download ebooks and audiobooks. You can view available titles and manage your checkouts by visiting the Overdrive website on your PC, or by downloading the OverDrive "Libby" app to your Android, iOS, or Microsoft mobile device. The Libby app can also be used on PCs running Windows 10. Easy, organized, and browseable.
In addition, some of the services below include more ebooks/audiobooks. Also offered are several databases for research, newspaper & magazine articles, and digital media (including songs, movies, documentaries, and tv shows). There are several resources to help with job searches. There is also support for students, a tool to help find books to enjoy, a system for learning langutes and more.
The list below is my condensed description of each service. For greater detail on each, and the links, visit the Library's E-Resource page here.
Ancestry Library – thousands of genealogical databases
Cypress Resume – Resume builder
Freegal® Music – Songs, music videos and audiobooks
HelpNow – Live tutoring and study support, SAT prep and an Adult Learning Center
HeritageQuest – Research family history
Hoopla – Movies, music, audiobooks, ebooks, comics and TV shows
JobNow – Job search support including live online coaches
JSTOR – Searchable, digitized archive of major scholarly journals
Mango Languages – Language-learning system (60 foreign languages and 17 English courses taught in user's native language)
Massachusetts Newspapers – Searchable current and archived U.S. newspapers
Nuwav Legal Documents – Create legal documents without a lawyer
Novelist Plus – Readers' advisory tool (e.g., author read-alikes, book lists, and discussion guides)
Reference Solutions – Info on over 11 million U.S. companies, plus job listings
Research Companion – Video instructions on finding, evaluating, and using research.
Science Database – Search over a thousand publications
Worcester Telegram & Gazette Collection – Searchable archive of articles since 1989
The Boston Globe – Searchable archive of articles since 1989
The Library also offers two suites of reference tools. Below are the details on the encyclopedia and database research tools.
Encyclopaedia Britannica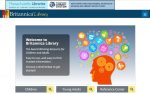 The full suite of research tools includes encyclopedias, atlas, dictionaries, thesauri, and verified magazine articles and websites for variety of research needs and age groups.
You can also utilize the following specialized editions:
Reference Center
Young Adults
Children
Elementary School
Middle School
High School
Learning Zone
Spanish Reference Center
Spanish Escolar (K-8)
Gale Databases
The massive resource allows searching the "General OneFile" covering all the databases. You can also use the "Power Search" to select multiple databases, or go straight to one of the focused databases below:
Academic
Biography in Context
Communications and Mass Media
Criminal Justice
Diversity Studies
Economics and Theory
Educator's Reference
Environmental Studies and Policies
Fine Arts
Global Issues in Context
Health and Wellness
Health Reference (Academic)
Home Improvement
Hospitality and Tourism
Information Science
InfoTrac Newspapers
Insurance and Liability
Military and Intelligence
The New York Times
News
Nursing and Allied Health
Opposing Viewpoints
Career Prep
Physical Therapy and Sports Medicine
Pop Culture Studies
Pyschology
Religion and Philosophy
Science In Context
Small Business
U.S. History in Context
Vocations and Careers
War and Terrorism
World History In Context
There are also editions for students and kids:
Kids InfoBits – child friendly database
Research In Context – for middle schoolers
InfoTrac Student Edition – for high schoolers
*If you don't have a Southborough Library Card and need one, click here. If you have one but don't recall the number, you can call the Library at 508-485-5031 or email rdonovan@southboroughma.com.