Ginny Martins is holding a special pop-up sale this week. The realtor will be selling "upscale staging inventory" at her downtown Southborough office (1 East Main Street.) A portion of the proceeds will be donated to Southborough Youth and Family Services.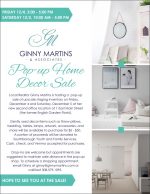 Items for sale include gently used throw pillows, bedding, tables, lamps, artwork, accessories, and more. There will be a range of items priced from $5 – $50.
Customers can drop-in during event hours. However, to maintain safe distances, Martins is encouraging people to make appointments.
To schedule a time, email ginny@ginnymartins.com or call/text 508-579-1095.
The event will run on Friday December 4th from 3:00 – 5:00 pm and on Saturday, December 5th from 10:00 am – 5:00 pm.
Updated (12/5/20 7:40 am): Since today's forecast is pretty bad, I'm pointing reader's to Martins' Facebook page to check if there are any updates on the sale status later today.