Christmas isn't here yet. But if you're one of many families who got your tree early this year, you may be noticing a lot of needles dropping. Looking ahead, you can count on Boy Scout Troop 1 to haul away your for tree in early January.
Christmas Tree pickups will take place the morning of Saturday, January 9, 2020.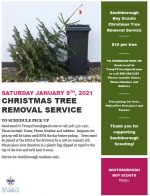 For most of us, it's a flat $10 fee for any tree. But the Scouts offer to do it for free for seniors, veterans, and members of the Police and Fire departments.
To schedule your pickup email troop1trees@gmail.com or call 508-330-2361.
Requests will be taken until 8:00 pm the night before. Be sure to provide your name, phone number, and address.
Your donation should be in a plastic bag clipped or taped to the top of the tree. The trees must be left at the end of your driveway by 9:00 am that morning.