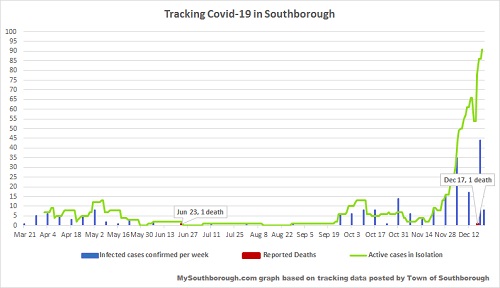 Southborough's Covid-19 surge is continuing. Over the weekend, 8 new cases were confirmed, bringing the the total active cases in town to 91. That's more than 40% of the 224 cumulative total cases since the start of the pandemic.
Last night, the Northborough-Southborough School District updated its weekly Dashboard. Data showed 17 cases were confirmed in NSBORO students/staff last week. 6 were from Southborough schools and another 6 from Algonquin.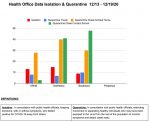 The district's graphs indicated 252 students/staff were in isolation or quarantine last week. This week, school is fully remote heading into school break for most of the district.
Some preschool and special needs students are in-person for a half day today. Staff working those programs will be tested this afternoon/tomorrow along with Algonquin students who signed up to get tested this week. Other staff members were tested on Friday.
Below are more of my updated graphs (based on Town and NSBORO data).
Updated (12/21/20 3:51 pm): Three more cases were confirmed this afternoon, bringing the total active cases to 94. For updated graphs, see my Covid-19 page.