If you're looking for a last minute gift for your favorite gamers, you might want to sign them up for a new program that starts next month.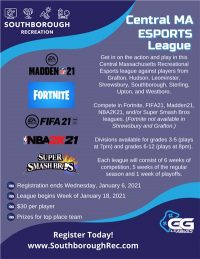 Southborough Recreation is teaming up with other Towns in the "Central Region" to offer an e-sports league for kids and teens:
compete in the Massachusetts Recreation and Parks Association E-Sports League! Compete with you friends against the other regions of our state across multiple games and platforms.
The league is split into two age groups: 3rd-5th graders playing from 7:00-800 pm, and 6th-12th graders playing from 8:00-9:00 pm.
Each player must own the game, have internet access, and have the required game system listed. (I'm guessing some players might newly meet one or two of those requirements come Christmas morning.)
For three of the five offered games, participants must own Playstation 4. One requires Nintendo Switch. Only one (Fortnite) allows several systems including computers.
Below is the schedule and required systems:
Mondays: MADDEN NFL 21 [on Playstation4 Only]
Tuesdays: FORTNITE [on Playstation 4, Xbox, Nintendo Switch, PC, Mobile, & Mac]
Tuesday: FIFA [on Playstation4 Only]
Wednesday: NBA 2K21 [on Playstation4 Only]
Thursday: SUPER SMASH BROS. [on Nintendo Switch Only]
The league runs weekly from January 18th to February 25th. GG Leagues will present, monitor, and referee all games and matches.
Note: Rec stresses it is each parent's responsibility to decide if a game is appropriate for their child. Click here for the game ratings and descriptions.