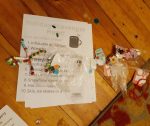 Act quickly if you want to pickup some entertainment for kids from the Southborough Library before staff takes a mini-break. You can pickup holiday & winter themed activity packets until about 4:00 pm today.
The Library has apparently been offering them during curbside pickup hours this month. The bin with activity packets is located next to the Curbside pickup tables outside the Marlborough Road entrance to the building. (The side with the parking lot.)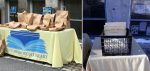 The Library will be closed tomorrow, December 24th through Sunday. It will reopen on Monday, December 27th. (Reopen for curbside service, that is.)
Whether you do or don't make the pickup time, you can also look for activity sheets for kids on the Library's website here. Fun includes a scavenger hunt, word search, mad libs and more.