If you're looking for something to do with the kids, you might want to head over to Chestnut Hill Farm. The Trustees of Reservations are continuing to offer publicly accessible fun for kids on the trails. Two special "events" are offered daily this month.
Before you go, check out the Chestnut Hill Farm trails map here.
Chestnut Hill's Reindeer Quest
Daily in December | Sunrise to Sunset
FREE

Grab your snow boots and get the family outside to discover our elusive herd of nine wooden reindeer, found throughout the farm trails! See how many you can find – along the way, snap some photos and share on social media with #reindeerquest and #chestnuthillfarm. Be sure to keep an eye out for Rudolph!
This is a free, self-guided program that runs throughout the month of December. . .
The nine reindeer can be found along our trails; some on the Beals Loop and the rest on our other trails. Hint: there are no reindeer on the Overlook Trail!
Note: You may know that in the past, we have left out bells for you to hang on our reindeer friends as you find them. Due to Covid-19, we must skip the bells this year. But please share your photos on social media so that we know you enjoyed the quest! . . .
Please note that while we love dogs, they are not permitted at Chestnut Hill Farm.
Winter StoryWalk
Daily | Sunrise to Sunset
FREE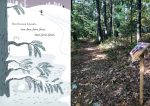 Join us for our winter-themed StoryWalk® on the farm's trails! December's book is "Over and Under the Snow" by Kate Messner, with art by Christopher Silas Neal.
StoryWalk is an innovative and delightful way for children — and adults! — to enjoy reading and the outdoors at the same time. Conceived as a way to inspire parents, teachers, and caregivers to take young children outside for physical activity and to learn, StoryWalk helps build children's interest in reading while encouraging healthy activity for everyone.
Laminated pages from a children's book are attached to wooden stakes, which are installed along one of our farm's trails. As you stroll down the trail, you're directed to the next page in the story. What a lovely way to enjoy the farm!