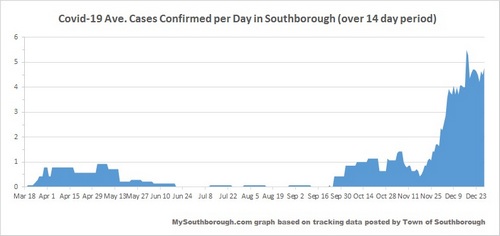 Southborough's latest Covid-19 update this morning marks thirteen cases confirmed since my Christmas Eve post. The cumulative total is now 244 cases in Town.
Last night, the Northborough-Southborough School District updated its weekly Dashboard. So far, the district has had 105 Covid cases. Only one is believed likely to have been transmitted through in-school contact. (That was an incident in Northborough's Melican Middle School in late November.)
The good news was that none of the Algonquin students tested through the school's free Covid screening last week came back positive. Although, only 550 students (about 40%) took advantage of the offer. Graphed data indicates that 8 NSBORO students/staff were confirmed positive last week including 3 from Algonquin. (It's possible that included students who were tested outside of the screening event.)
NSBORO has held six screening sessions of district staff since mid-fall. 11 cases have been confirmed, 4 of which were from asymptomatic staff members. (There was no indication of how many were last week. The prior week's Dashboard didn't contain that screening data.)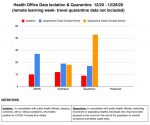 The district's latest graphs indicated 155 students/staff were in isolation or quarantine last week. (Travel Quarantines weren't included. Since school was all remote last week for most students, it appears the school didn't fully track that data.) Winter break started halfway through last week. Remote school resumes next Monday, January 5th. K-8 hybrid resumes that Tuesday, and Algonquin's hybrid resumes that Thursday.
The Town's data indicates there are 78 active cases. Given recent events, that could be inaccurately hight. 67 cases were confirmed in the past 14 days, 17 of those in the past 7. Recently, the Public Health Department's understaffing issues kept them from officially clearing some cases with patients who were no longer in isolation.
The state's weekly report issued on the evening of December 24th kept Southborough and surrounding Towns at the same risk levels as the prior week. (Red with the exception of Hopkinton, which is still yellow.) Northborough is reporting 115 active cases as of December 25th, with 148 cases having been confirmed in the two weeks prior.
Below are more of my updated graphs (based on Town and NSBORO data).