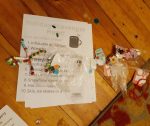 On Christmas Eve, I shared last some news that would have been too last minute for some readers to take advantage of. The Southborough Library has been offering winter/holiday activity packets for kids.
For those of you weren't able to act before they closed for a mini-break over Christmas, there's good news. The Library reopened for Curbside pickup and the packets are being offered again today through Thursday.
The bin with packets is located next to the Curbside pickup tables outside the Marlborough Road entrance to the building. (The side with the parking lot.) The tables will be out from 10:00 am – 4:00 pm now through New Years Eve. (The Library will be closed again on Friday for New Years Day.)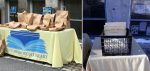 In addition, you can also look for activity sheets for kids on the Library's website here. Fun includes a scavenger hunt, word search, mad libs and more.