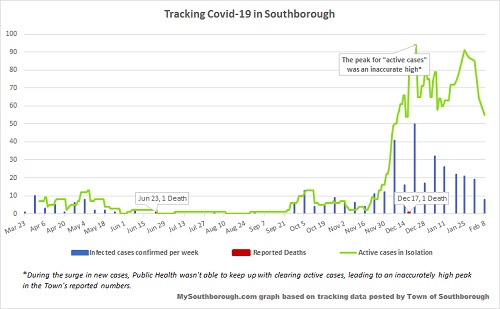 It's time for another update on the Town and school's Covid-19 situation.
Updated Southborough figures
Yesterday afternoon, the Town posted updated Covid-19 figures (as of 4:00 pm on February 8th). As of the update, 27 cases were confirmed in the prior 14 days, only 8 of those in the prior 7 days. The 2-week totals are still higher than the fall, but have been trending down the past few weeks.
The Town's cumulative total over the course of the pandemic was increased to 372 cases with 55 cases currently labeled active. (For details, click on graphs above and below.)
NSBORO School District Data
The district's Covid Dashboard was updated on Sunday. 8 new cases were confirmed last week, 205 over the course of the pandemic. The number of students/staff kept home for isolation/quarantine was 126 last week.
The schools' data is below, along with my charts capturing data since the start of school from past announcements.
The data shows a continued, consistent decline in new cases and quarantines over the past 4 weeks across the three combined districts. (Broken down by individual districts there have been fluctuations. I included detailed graphs tracking the data for Southborough K-8 and for Algonquin.)