The Southborough Library is promoting this year's Seed Exchange Program. Yesterday was the launch of the Library's seed request form. Patrons can request a variety of seeds, at up to 5 packets per person:
The Library Seed Exchange is a fun way to build a community around gardening information, planting and sharing. Seed swapping not only helps us to become more self-sufficient, but also protects biodiversity. And if you want to reduce stress, gardening is a great activity to pick up at any age.
Those interested in participating are encouraged to collect new seeds from their harvest in the fall to donate back to the Library.
This spring's seeds includes a "limited selection of herbs, vegetables, and flowers". [Note: If you are ordering one of the cucurbits (cucumbers or squash) you may want to take advantage of the Library's next Gardening Workshop on April 5th.]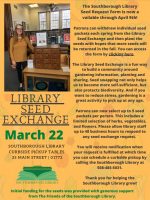 The Library's seed supply is a combination of donations (some from patrons who followed through on the "exchange" concept) and heirloom seeds purchased through funding by the Friends of the Southborough Library.
The request form is available through April 9th. Seeds will be made available at the curbside pickup tables:
Please allow library staff up to 48 business hours to respond to any seed exchange request.

You will receive notification when your request is fulfilled at which time you can schedule a curbside pickup by calling us at 508-485-5031.
On April 10th, the Library will hold a special in-person Seed Exchange:
April 10, 2021
11:00 AM – 1:00 PM

Remaining seeds will be available for patrons to select from and bring home at this special event located outside of the Southborough Library.

This is also a great chance to bring any seeds you have for the Southborough Library to continue and build our Library Seed Exchange!

Please contact the Southborough Library at
508-485-5031 and speak with Ryan Donovan if you have any additional questions. More information will be available soon.
The Library is encouraging participating patrons to share their efforts and success through photos:
We would love to see how your garden is growing and would encourage you to email us pictures to rdonovan@cwmars.org so we can share them with the broader community on our social media.

Please also feel free to share your pictures on Social Media and use the hashtag #sblibseeds
On their social media platform the Library has been sharing information on gardening books in their collection (click here and here) patrons can check out. You can find more in their catalog here.