Southborough Police shared a notice for curious/concerned residents. If you hear/spot helicopters hovering, it likely just belongs to the electric company:
We are sharing the following information as an FYI (For Your Information). National Grid is currently performing comprehensive inspections of some of their lines. The inspections began on Saturday, March 20th, and will run through May of this year. These inspections require a helicopter to hover over transmission-line structures as visual analysis and high-resolution photos are taken. National Grid will be utilizing a black helicopter with tail # N748CB, with 'Utility Patrol' written on the side (see [above] photo).
While I'm sharing that news, I'll add a couple of updates from the Southborough Fire Department about actual emergency responses.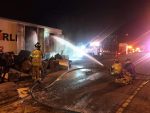 Last night, the SFD " battled a moving truck trailer fire on Rt 495 North near Simarano Drive." According to the SFD's update this morning:
They were aided by Marlborough Fire Department Engines 1 and 2, and a tanker from Hopkinton Fire Department. The blaze was under control in under an hour and caused substantial traffic delays.
Click here for more of their posted pics from the scene.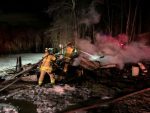 Last week, the SFD responded to a fire that sounds like it's in town, but is actually in a neighboring town. They posted:
Southborough Engine 23 and Squad 24 assisted Hopkinton Fire Department on Sunday evening around 7:50 pm with a structure and woods fire at the Southborough Rod and Gun Club off of Fruit Street. Westborough Fire Department and Ashland Fire Department's also responded.