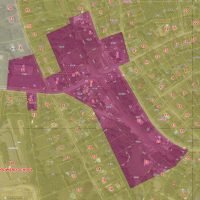 The Board of Selectmen has scheduled another forum on the proposed Downtown District zoning for Tuesday. This one is listed as a public hearing. Unlike their previous forum, the Board's zoning consultants will be available to answer questions and provide clarity.
Selectmen hope the meeting will answer the public's questions about why certain changes are proposed. (Or, as in the case of the map, why some changes aren't.) They also hope to dispel what they refer to as misperceptions by many residents.
In the hearing, officials will be referring to potential revisions to their initial bylaw draft*. (That document has yet to be publicly shared.)
The revisions came out of Working Group meetings. Changes apparently include removing earlier requirements for FARs (Floor Area Ratios). (You can read more about FARs here.) At this week's Board of Selectmen meeting, selectmen Lisa Braccio and Sam Stivers both said they weren't convinced yet that the decision was the right one. Braccio noted that Planning Board's Meme Luttrell also had concerns.
Braccio noted that they will continue to solicit and incorporate public feedback. The Board hopes to have a close to final version ready to insert in the Annual Town Meeting Warrant by late April. But, Braccio has acknowledged there may be more changes after that, as Planning Board hearings will continue up to the ATM scheduled for May 22nd.
Among other topics certain to be discussed on Tuesday are concerns raised by an abutter about the zoning map.
In multiple public meetings, resident Kevin Miller has said that he supports changes that encourage revitalizing business on downtown Main Street. He doesn't agree with those changes extending into parcels on Latisquama Road and Foley Drive. (Many of the bordering parcels are split between the zone covered by the bylaw and the "Residential B" zone.)
Miller posited that developers could convince residential property owners to split their lots, so they can cobble together enough land for projects he believes inappropriate for his and neighbors' backyards. He noted properties contiguous with CSX owned property that could have access to Park Street.
Although Miller has been the public voice for the concern, selectmen have indicated they also heard from others. At the Planning Board hearings, member Andrew Mills voiced shared concern over the issue.
Members of BOS and the Economic Development Committee have explained that they are using the existing map for the downtown section of the Business Village zone. Miller has argued that the EDC should have taken time to draw a new zoning map.
EDC's Julie Connelly rejected that as requiring working with each owner of split lots. EDC members have pointed out that some of those residents may prefer the ability to sell off part of their lot to a commercial/retail developer. Miller noted that discussion as evidence that his concern is legitimate.
The rezoning has been pitched as not increasing any risk to abutters. Connelly has noted that the zone already allows commercial and retail uses.**
Miller has countered by pointing to the increased list of uses that won't require special permits. And it is true that EDC has pitched the zoning as reducing hurdles to encourage sensible development.
EDC rebutted that while the by-right use list would grow, that doesn't mean the types of buildings allowed would be more problematic. It's worth noting that whatever zone a project falls under, it is still subject to the bylaws for Site Plan Review. That means large projects would still go through Planning Board hearings.
There are major differences in the authority and nature of oversight under Site Plan Review and Special Permits. Whether by the Planning Board of Zoning Board of Appeals, Special Permits are only to be granted if the board finds:
the proposal's benefits to the Town will outweigh any adverse effects for the Town or the vicinity
In the past, Planning Board Chair Don Morris has stated the board doesn't normally reject applicants' Site Plans outright. Their role is to work with applicants on certain aspects of the Site Plan. Rejections generally only occur when submissions are incomplete. Otherwise, the Board uses "conditions" to regulate appropriateness of Site Plans.
The fact that uses can't be rejected outright through Site Plan means abutters may care about their appropriateness. In the most recent public draft, not only was the list longer, but the trigger for many uses requiring a special permit was raised from over 2,000 square feet to "over 3,000 square feet per establishment". (However, that detail was being debated by the Working Group, and could change.)
Still, Site Plan Review does give Planning some control over project appropriateness. For Major Site Plan Review, that includes conditions on parking and access, landscaping, and required "screening" for abutting properties.
The new bylaw also is intended to refer to special guidelines/restrictions for projects under Major Site Plan Review. Those are meant to be created and updated by the Planning Board. Planning has stated their intent of creating those and publicly sharing them prior to Annual Town Meeting.
Under Town bylaws, Major Site Plan Review is required for:
Any new development, or expansion in use other than a single-family or two-family residence which adds 2,000 square feet or more of floor area or which would require 20 or more parking spaces, regardless of the number of parking spaces existing on the premises, or any change of use of a facility that totals 2,000 square feet or more shall be subject to major plan review by the Planning Board.

That process is handled through Planning Board public hearings with notice to abutters.
Most smaller projects would still trigger at least a Minor Site Plan Review:
Any new development, or expansion in use other than a single-family or two family residence which adds less than 2,000 square feet of floor area or which would require at least five but fewer than 20 parking spaces regardless of the number of parking spaces existing on the premises, or any change of use of a facility that totals less than 2,000 square feet shall be subject to minor plan review.
Currently, the Minor review is defined as handled by "The Site Plan Review Committee" comprised of specified positions in Town Government, mostly employees. However, the Planning Board will ask Town Meeting to cede that responsibility to them under an unrelated Article on Site Plan Review. That Article is the Board's attempt to resolve a contradiction in the Town Code.
In 2015, Town Meeting adopted a requirement that only residents can serve as voting members of Town Committees. Since many of the employees don't live in Southborough, that resulted in a conflict. The Planning Board is recommending that the best resolution is for them to take over the process.
The change would improve transparency by moving Minor Site Plan review to public Planning Board meetings going forward. They still wouldn't require hearings or abutter notice.
The Board of Selectmen's hearing is scheduled for Tuesday, March 30th at 6:30 pm. This week, Braccio indicated that the zoning attorney would be available for the full hearing. Their other zoning expert will only be available for part of the meeting.
The night prior, the Planning Board will resume its public hearings on all four of the zoning bylaw Articles headed to Annual Town Meeting. Planning's Downtown District hearing is slated for 7:30 pm on Monday, but could get pushed later depending on how long prior items on the agenda take.
To zoom in to either board's meetings, click here.
*At the March 23rd meeting, Selectmen agreed to adopt the revised document as the version of the bylaw to reference in future discussions. It wasn't an endorsement of it as the preferred version to take to voters. They indicated changes are still likely to be made as they request public feedback.
**With the new document not yet posted, I don't want to cause confusion by comparing and contrasting what the current bylaws allow for vs proposed changes. So for now, I'll just share information on what the current bylaws already allow by right in the map under fire.
By right, the uses are allowed up to 2,000 feet include:
Retail sales and services which do not involve manufacturing on the premises.
Newspaper, job printing and publishing.
Office, bank, office building.
Hotel or motel, restaurant (excluding drive-through food service establishments).
Clinic or medical testing laboratory
There's a longer list of uses allowed through special permits from the Planning Board or Zoning Board of Appeal. You can view that here.