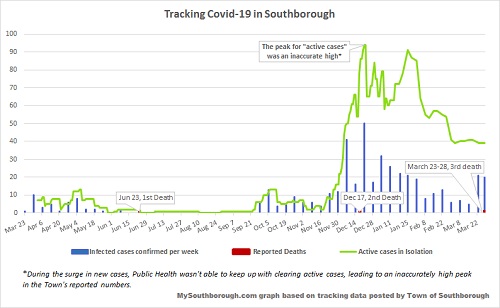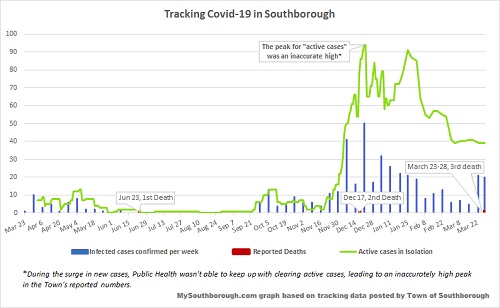 The Town has reported a third Southborough resident's death attributed to Covid-19.
The information was part of an update "as of" 10:00 pm on Sunday, March 28th. (The previous update was as of the morning of Tuesday, March 23rd.) [Note: So far, recent obituaries for residents haven't listed Covid-19 as a cause of death. If the family chooses not to make the information public, neither will I.]
The Town's cumulative total over the course of the pandemic was increased by 10 to 445 cases with 39 cases labeled active.
At least 31 new cases were confirmed in the prior 14 days.
For details, click on graphs above and below.
There is a good chance Mass DPH will re-designate Southborough red in the next weekly report due out on Thursday night. It will depending on timing of when tests were taken. (For information from the state's most recent report, including resident vaccinations, see Friday's post.)
NSBORO School District Data:
The Northborough-Southborough schools' weekly Dashboard for March 22 – 28 shows 12 new cases were confirmed in the district, 262 over the course of the pandemic.
135 students/staff were isolated or quarantined last week.
Overall student participation increased in the screening program. Though participation plateaued or slightly decreased for Algonquin, Trottier, and Neary.
The samples taken March 15th & 21st screened out 4 infected asymptomatic students.
Below are charts and info from the latest Dashboard and my tracking of their data since the start of the school year.