This spring, NSBORO Interact Club is holding a special collection drive. They are seeking used prescription eyeglasses and sunglasses to donate to people in need "across the world".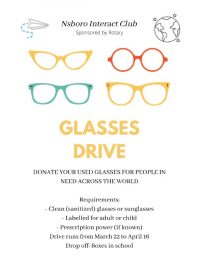 Southborough K-8 schools each have a collection bin in the foyer for donations. There are some requirements for donations.
Donated glasses/sunglasses should be:
clean and sanitized
labelled for adult or child
and labelled with prescription power (if known)
The drive will run through April 16th.
NSBORO Interact – Doing Good
I wasn't familiar with NSBORO Interact, so I looked into it a little. The flyer notes they are sponsored by Rotary. (That appears to bes Northborough Rotary.) On Instagram they describe themselves as "a student led service group that welcomes all from grades 7-12".
On the insta feed, a flyer last fall promoted a glasses drive at Algonquin. It's one of many projects the group has recently participated in. Here are just some of the projects they have promoted on social media since last June:
Holiday care packages for low income elementary/middle school students
Today, we put together many bags filled with food and goodies for the holidays for elementary/middle school students from low income families. Through Rotary's Nutrition 68 program, we were able to provide cereal, fluff, pasta sauce, pasta, graham crackers, fruit, marshmallow fluff, nutella, hats, and mittens in each reusable bag along with three books and a holiday card from the Interact Club! We hope the families who receive these bags are filled with as much joy as we got putting this together. Happy Holidays, and stay safe!
Collecting educational items for tribal villagers in India
In the spirit of the holiday season, National Honors Society, National English Honors Society, and Science National Honors Society in collaboration with the Interact Club & Rotary International have put together a project called Gifts for Good, where students can bring in educational materials for tribal children in need. These children lack access to educational materials due to their remote environment, and they are in need of materials such as toys (LEGOS, alphabets, etc.), workbooks (educational & coloring), and school/art supplies.

Please stop by the main office to get involved, and especially during this pandemic, these people need our support. Items are listed on slips underneath the Giving Tree in the main office, and each slip will have a type of item to be donated to tribal school children in Vizag, India to help their perusal of education. Items can be dropped off at the Main Office as well. Thank you!
Care packages for Algonquin staff
Interact has been working hard to give back to the algonquin staff such as the main office, custodial staff, postal service, nurses, cafeteria staff, and tech department. During these hard times, its important to appreciate all the work the staff has done in order to keep us safe. For this reason, our club assembled gift baskets full of items such as sanitizers, masks, coffee, gum, and hot chocolate as a way to say thanks
Care packages for Northborough Food Pantry families
This past Saturday, we made over a hundred essential care packages for our local families at the Northborough food pantry! These packages included soap, toothpaste, toothbrushes, masks, gloves, and a handwritten note with helpline numbers on the back. It was an amazing project and a great way to kick off the upcoming school year! Thank you to the members and we sincerely hope these packages will help the families who receive them.
NSBORO Community Reflection Video
July:
During this COVID-19 health crisis, as a club, we understood that it is is critical that we understand the challenges and practices we must understand. We put together this video to shed light on them, and we thank everyone who contributed to making this video possible. We encourage you to watch it and listen to the words of many experts and members of the community.
(You can view the video here.)
Care packages for Worcester homeless shelter
June:
On Thursday, we made 150 care packages filled with essentials in them! Thank you to the members who joined us. It was a great feeling to know we are providing masks, gloves, soap and feminine hygiene products for those in need right now. All of the packages will be going to a local homeless shelter in Worcester