Southborough Youth & Family Services is asking the community to spread joy this month:
May is Mental Health Awareness Month and do we ever need some celebration of wellness!

Help SYFS to spread cheer by participating in the Neighborhood Happiness Project.
The initiative is one of three that SYFS is promoting for Mental Health Awareness Month.*
As I shared previously, SYFS is also partnering on The Hope Walk and encouraging a Community Read of (not coincidentally) The Happiness Project.
The Neighborhood Happiness Project asks the public to leave "thinking of you" notes at neighbors' or friends' doors. You can leave the note by itself, or:
Want to add a plant? A painted rock? Those flamingoes that made a go around last year or non-"thing" random act of kindness? Go for it! Just keep it going all month long!
The flyer includes a sample note at the bottom that you can print and use as the note. Or make your own, referencing "SYFS Neighborhood Happiness Project".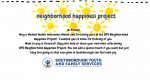 To make it easier to print, I included the note/slip image by itself to the right. (You can also open a pdf with two printable notes here.)
*This week, SYFS produced a new episode of their program Coffee Talk focusing on the importance of Mental Health Awareness Month. You can view that here.