This month, Southborough and Northborough parents and caregivers are invited to workshops on problems related to teen use of cannabis and alcohol.
The programs are sponsored by the Northborough-Southborough Substance Abuse Prevention Coalition. The free virtual sessions will be held over zoom.
Each will be led by the District Physician for the towns' public schools, Southborough's Dr. Safdar Medina:
the Pediatric Director of Tri-River Family Health Center in Uxbridge and Assistant Professor at the University of Massachusetts Medical School.
The program details are below: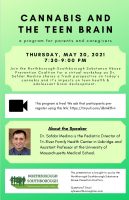 Cannabis and the Teen Brain
Thursday, May 20th, 7:30 – 9:00 pm
Dr. Safdar Medina shares a fresh perspective on today's cannabis and it's impacts on teen health & adolescent brain development.
Click here to register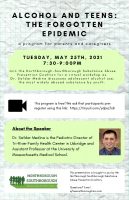 Alcohol and Teens: The Forgotten Epidemic
Tuesday, May 25th, 7:30 – 9:00 pm
Dr. Safdar Medina discusses adolescent alcohol use, the most widely abused substance by youth.
Click here to register