Last month, the Northborough – Southborough Special Education Parent Advisory Council held its annual celebration of teachers, staff and community members who Go the Distance for special education students. The May 20th event was a virtual presentation.
The event recognized 59 award recipients from 10 schools and the community. The presentation included quotes from the students/family members who nominated them. An overlapping list of 27 honorable mentions was also shared this year.
The Community Advocate quoted NSPAC President Alyssa Degon about the new addition of Honorabl Mentions:
This was such an unusual year, we felt it was the best time to expand the awards. Many of our students needed more help from their Student Support Services team than ever and we want these awards to be really special!
According to the CA story:
Each [award winner] was highlighted with submitted photos and videos where possible and was given a print-out of their written nomination, identifying who nominated them.

Those were hand-delivered to their school the week of the ceremony. Another twenty-six team members were listed as an Honorable Mention and had their names read aloud. . .

The presentation also featured a performance by the Algonquin Unified Singing Club, led by Lori Diamond.

Likewise, Andrew Roberts, an Algonquin junior, was the presentation's Student Spotlight.

"He has been instrumental in assisting with the Awards for the past seven years," Degon said. She added, saying, "Although this was a very different year for both students and teachers, we at NSPAC feel that our community is definitely feeling understood and cared for by our Student Support Services team (SSS), led by Marie Alan, our Director."
You can read the full article here.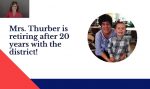 The presentation also spotlighted Finn School Special Education teacher Ann Thurber, retiring this summer after 20 years in the district.
Below are the lists of winners and mentions (copied from the presentation).
You can view the full 44 minute video here. You can learn more about NSPAC here.