As of yesterday, the Southborough Board of Health is showing 6 residents in isolation for active cases of Covid-19. The total cases over the course of the pandemic is now 552. That's 5 cases reported in 7 days and 13 in two weeks.
Last week's report from Mass Dept of Public Health (issued August 26th)* indicated 14 cases in two weeks with the Average Daily Incidence Rate per 100,000 as 10.3 (higher than prior period) and the % of tests confirmed positive as 1.77% (also higher).
For details, see graphs below: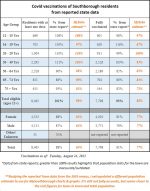 As of the latest report, 8,465 Southborough residents had received shots by August 24th.
My data indicates 88% of residents old enough to be eligible for shots are fully vaccinated, and another 8% are partially vaxxed.** The largest number of unvaccinated residents continues to be 50-64 years old.
More highlights by age group and gender are in the chart above right and graphs below. (They include vaccination progress zoomed in on summer months.):






(For more details on those groups, plus race/ethnicity, click here.)
For residents who are immunocompromised, the Town posted an announcement sharing CDC's guidance about getting a booster shot:
COVID-19 vaccine boosters for immunocompromised

On August 13th, the CDC

issued a statement

recommending that people who are moderately to severely immunocompromised receive an additional dose of mRNA COVID-19 vaccine after the initial 2 doses. The CDC defines moderately to severely immunocompromised individuals as those who have:

Been receiving active cancer treatment for tumors or cancers of the blood
Received an organ transplant and are taking medicine to suppress the immune system
Received a stem cell transplant within the last 2 years or are taking medicine to suppress the immune system
Moderate or severe primary immunodeficiency (such as DiGeorge syndrome, Wiskott-Aldrich syndrome)
Advanced or untreated HIV infection
Active treatment with high-dose corticosteroids or other drugs that may suppress your immune response (including biologics such as Enbrel, Humira and Remicade)

Individuals should talk to their healthcare provider about their medical condition, and whether getting an additional dose is appropriate for them. For moderately to severely immunocompromised people, the third dose should be given at least 28 days after the completion of your initial mRNA COVID-19 vaccine series. You will need to attest that you qualify for the third dose of the vaccine, but a doctor's note or order is not needed to receive it.

Keep checking back for more information about COVID-19 boosters for the general public!
*The state's report was based on tests taken in the 14 day period ending on the prior Saturday.
**Population figures are just estimates. I use demographics extrapolated from 2019 census data since the state's population data was clearly outdated.